The TimberFish Technology
By combining sustainably harvested wood chips with food wastes the TimberFish Technology can profitably produce seafood from forested land without reducing the carbon sequestering capacity of the forests. This generates a new food chain producing locally and sustainably grown contaminant free seafood while incentivizing reforestation and deforestation avoidance.
The proprietary TimberFish process grows microbes on the wood chips and food wastes. Feeds them to invertebrates which are then fed to fish and shrimp. Everything excreted by the fish and shrimp is recycled back to the microbes. The only byproducts of this process are topsoils and potting soils, high energy residual wood chips for clean renewable fuel production, and clean water that meets strict intermittent stream water quality standards. There is no waste.
TimberFish's solution is a new ecotechnology that is environmentally sound and economically competitive in today's marketplace.
Rising Populations and Environmental Pollution Threaten Our Future's Food Supply and Safety
Our existing food supply is based on the production of fruits and grains from farmed land, and seafood harvested from our oceans.
Most land suitable for farming is already in production and our oceans are over-fished. Human populations are rising and there are growing concerns about climate change and environmental pollution – all of this is putting increased pressure on food production.
TimberFish Technology Bioconverts Clean Organic Waste Streams Into Salable Seafood
Food and Beverage Producers who have clean but high strength waste streams often find that these streams are costly to dispose of under current environmental regulations. The solution that TimberFish offers is a system that combines these wastes with nutrients and unutilized plant materials, to create a new food chain that produces marketable seafood. Selling this seafood reduces or eliminates the costs associated with the treatment and disposal of the wastes.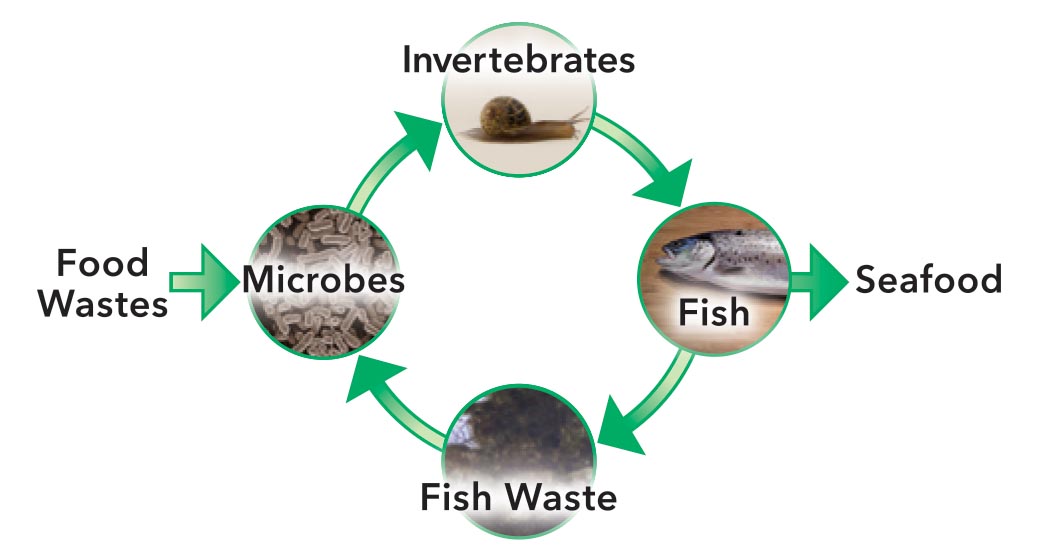 TimberFish Technologies uses food production waste streams to grow delicious, clean and safe seafood while discharging clean water.
TimberFish Technologies uses food production waste streams to grow delicious, clean and safe seafood while discharging clean water.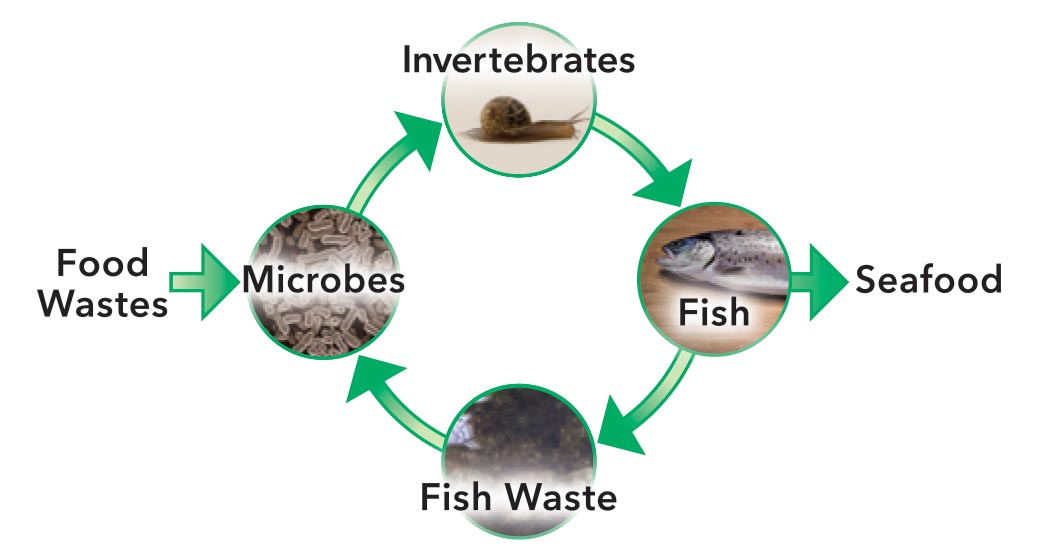 The TimberFish Technology can be a major
contributor to mitigating Climate Change.
The blue line shows the impact on atmospheric carbon dioxide concentration levels if fossil fuels are gradually replaced with renewable energy over the next 35 years.
The pink line shows how a large scale implementation of the TimberFish Technology, beginning in 2025, could further impact future atmospheric carbon dioxide concentrations.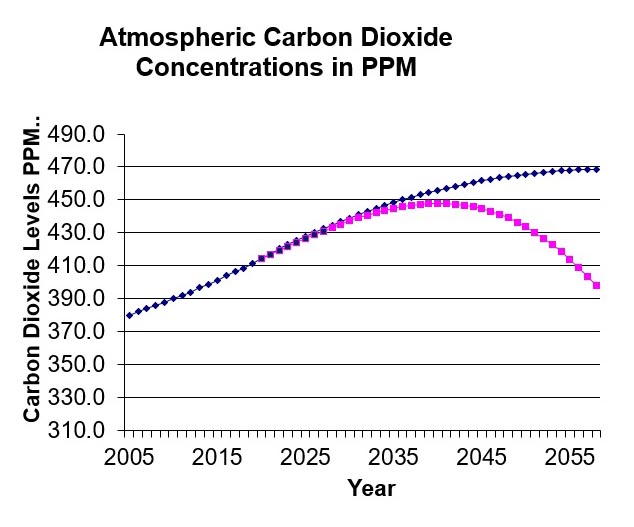 Economically
We save money by growing our own feed from non-agricultural plant materials that grow on marginal lands and we use byproduct nutrient sources from food processors thereby eliminating their disposal expense. Because our production process comprises a wastewater treatment system, it meets regulatory discharge standards without incurring additional capital and operating costs.

Responsibly
Our technology mimics nature by growing seafood's natural feeds. Since we control all inputs our seafood is contaminant free and has the taste, texture and health benefits that seafood is supposed to have. Additionally, we are local, use only sustainable inputs, and don't discharge pollutants to the environment.

Environmentally
Our process removes nutrients from food processing wastewater thereby reducing pollution in streams and lakes. We use minimal fresh water and only discharge clean water that meets rigid quality standards. We help reduce greenhouse gases by encouraging re-forestation and by shortening the length of the long seafood supply chain which reduces fuel consumption.
Sign up for TimberFish Emails
Technology Updates | Investment Opportunities | Stories & Videos | Environment Alerts
Email us: info@timberfishtech dot com
8400 West Route 20
Westfield, NY 147897